Stepping up to the challenge
In our daily work, we supply all types of businesses throughout the country. We get to hear of their challenges and victories and see how they continue to innovate and elevate their distribution methods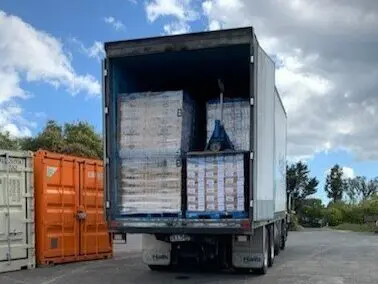 Over the course of the lockdown, we've been in touch with these customers more than ever, ensuring everything we can do is being done and done right. During this time we've come across some great examples of Kiwi ingenuity and determination. Here are some of their stories…
Foodstuffs DC – Dunedin
The week before New Zealand entered Level 4 of lockdown Kiwi's hit the supermarket like never before. Volumes in the Foodstuffs Dunedin DC were bigger than the Christmas period – and yet they had to power through with 29 less staff than usual.
DC Manager Gareth Weatherston kept his team going with promises of smoko shouts each time they hit new KPI's. While this turned out to be quite an expensive promise from Gareth it proves that a good team with a goal can achieve anything!
Martin Brower  – Christchurch
When fast food was reopened drive-throughs were getting queues that blocked roads for kilometres. There were reports that one customer ordered 80 cheeseburgers at once.
With such high demand, the usual container transport from Auckland to Christchurch simply wasn't going to be enough. Martin Brower knew they had to pull out all the stops, and quickly got to work with sending extra stock via road transport. Thanks to their determination Kiwis could rely on getting their fast feeds again.
Fonterra – Clandeboye
When hand sanitizer was becoming harder to source in NZ it took some quickly arranged supply partnerships to help meet demand. Saskia and Andrew Lewis had the valuable connections. They both worked at Fonterra's Clandeboye site and, as importantly, the South Canterbrians owned a gin distillery.
The pair sourced ethanol from Fonterra's ethanol subsidiary before spending late nights and long weekends working tirelessly to produce over 1,000 litres of WHO-approved sanitizer for essential businesses in Geraldine. Their distillery, dubbed the Humdinger, proved hugely valuable during these challenging times.
Hall's, Ingham's and Fair Food – Auckland
Auckland based charity Fair Food is dedicated to rescuing good food from going to waste and giving it to those Kiwi families who struggle to put food on the table. During lockdown the need for food was immense and the organisation needed help transporting six pallets of chickens
Fair Food asked Halls Transport for help and the refrigeration transport specialists stepped in and stepped up. They wound up collecting 25 pallets from Wiri and delivered them in time to those who needed it most.
Of course, for many companies simply staying operational during this incredibly trying time is reason enough to celebrate. Thank you to all who have gone above and beyond to make things happen – we've got a great community of customers and are proud of their efforts during this time.
Celebrating Kiwi companies through Levels 4, 3 and 2