When it comes to speed and safety in pallet strapping, as with many tasks in life, it's the repetition of movement that causes the most issues. Thankfully, there's an innovative new spine-friendly strapping system to take the strain out of the strap.
Strap a single pallet load using the old-fashioned bend-and-wind approach? No problem. Strap more than ten each day? Then you'll probably have issues in the medium and long term with repetitive strain injuries. Speed and efficiency of pallet strapping can then be further compromised as corners are cut.
For companies trying to protect their team and the bottom line, warehouse equipment that makes pallet strapping safer and easier is always welcome. The ErgoPack has arrived in New Zealand ready to do just that, the built-tough technology ensuring companies can strap pallets in less time and with less stress.
This strapping simplicity is all thanks to the patented ChainLance systems, which slides under the pallet, carrying the strapping with it. The ChainLance then feeds the strapping back to the operator who then only has to fit the sealing head to the strap. After that the ErgoPack automatically tensions the strap and then welds it together. The entire process can be measured in seconds.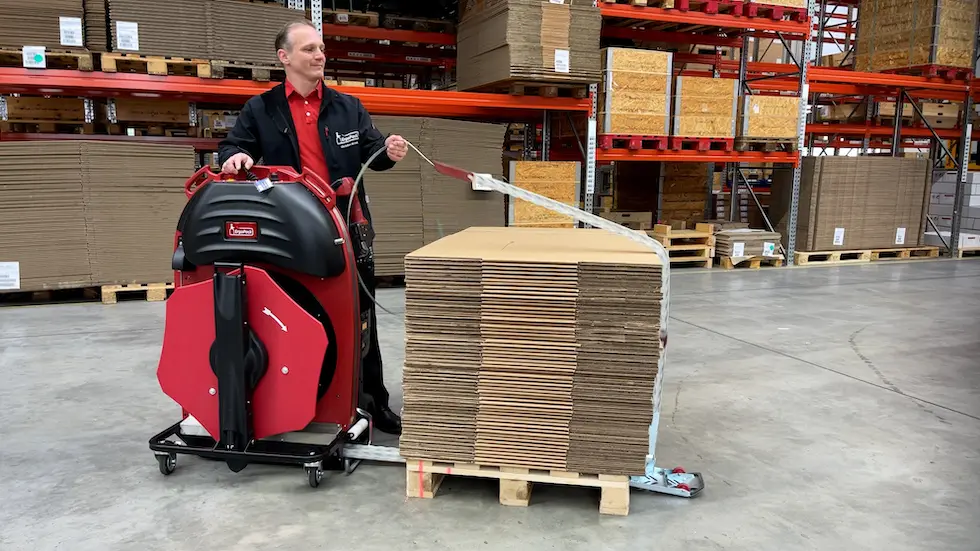 "Numbers is hard and real, and they never have feelings.
But you push too hard, even numbers got limits.
Why did one straw break the camel's back? Here's the secret,
The million other straws underneath it. It's all mathematics."


– Mathematics, Mos Def
Capable of strapping pallets up to three metres high, with an integrated line laser for easy positioning, and designed to be used with work gloves, it is as easy to use as it is ergonomically beneficial. The result provides a handy DC tool that protects the health and safety of warehouse teams with every pallet strapped.
We're now taking orders for this innovative equipment. To find out more get in touch here or call our team on 0800 700 000.