Introducing NanoWrap, a revolutionary stretch wrap for cost-effective, wrap-efficient packaging.
We are proud to offer this high-tech future-focused pallet wrap to forward-thinking companies around New Zealand. NanoWrap is the result of a big investment in research and development – joining multiple layers into an ultra-thin polymer required specialist expertise and technology. The result was worth it. 33 layers of high-performance wrap – a uniquely formulated film with a core formation to deliver 300% stretch capacity and maximum load stability, minimal weight and enduring peace of mind.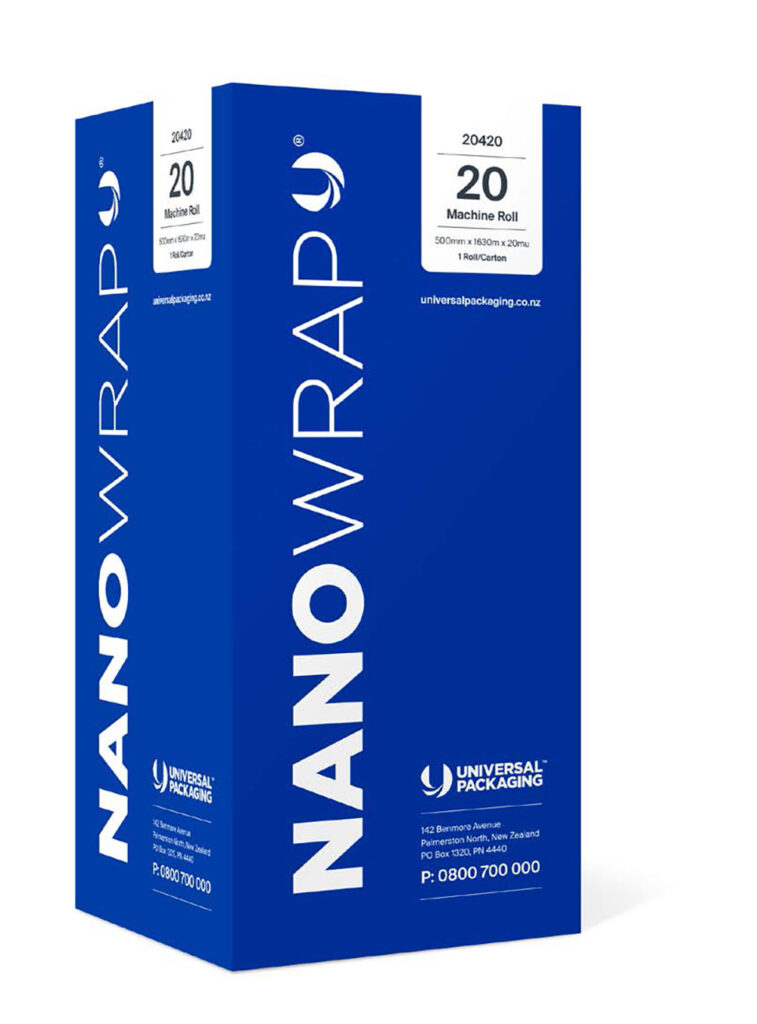 Load protection. NanoWrap delivers unrivalled performance levels in load containment and puncture resistance. Even though the overall thickness is reduced (in comparison to other packaging films) load stability is far higher.
Eco sustainability Reduce film weight by 35% and massively reduce waste and minimise potential landfill impact. With less shipping weight less fuel is needed too, making NanoWrap a win-win choice.
NanoWrap is 100% recyclable. It is classified as Code 4 LLDPE plastic which is fully recyclable within the NZ Waste & Recycling system.
Cost Savings. The smallest gains can make a big difference in logistical costs. So when 1 metre of un-stretched Nano film is stretched to 4m of wrap, you're using up to 35% less product per pallet, well… those savings can be significant.
Code
Description
Rolls
Per Carton
Rolls
Per Pallet
20412

NanoWrap Machine Stretch Wrap,

500mm x 2720m x 12um

1
50
20415

NanoWrap Machine Stretch Wrap,

500mm x 2175m x 15um

1
50
20416

NanoWrap Machine Stretch Wrap UVA,

500mm x 2175m x 15um

1
50
20417

NanoWrap Machine Stretch Wrap,

500mm x 1920m x 17um

1
50
20420

NanoWrap Machine Stretch Wrap,

500mm x 1630m x 20um

1
50
20477

NanoWrap Machine Stretch Wrap,

750mm x 1920m x 17um

1
30
20480

NanoWrap Machine Stretch Wrap,

750mm x 1630m x 20um

1
30