Pallets of full individual drink bottles are some of the most challenging to transport while avoiding load movement and subsequent product damage. For a company with a major focus on sustainable practise 'more wrap' was not the answer. Instead NZ Drinks and Universal Packaging have banded together for the best result… Raa Turua
Factory Manager – NZ Drinks Auckland
Pallets of full individual drink bottles are some of the most challenging to transport while avoiding load movement and subsequent product damage. For a company with a major focus on sustainable practise 'more wrap' was not the answer. Instead NZ Drinks and Universal Packaging have banded together for the best result…
NZ Drinks takes pride in being 'the largest, fastest and most efficient automated water bottling facility in New Zealand'. Their investment in state of the art technology and innovative production automation allows the company to produce, pack and send over 200 million bottles of water per year.
Since 2010 the Pokeno site has been supplying customers throughout New Zealand and internationally. During this time Factory Manager Raa Turua has overseen improvements to the packaging and dispatch processes. Yet one major packaging problem was still causing headaches.
"We still had the travelling issue with the six pack, which is a tall product that doesn't sit well in the back of a truck," Raa says. "We were originally doing a column stack, which didn't help things. Changing to an interlocking load definitely helped. But it definitely didn't solve everything."
It was a significant challenge for the busy operation, particularly given the consequences for the reputation of the brand and the resources needed to fix each problem pallet.
"Close to half the product was being returned from one of our major customers," says Raa. "Their quality control processes were really stringent – if anything was out of place the load would come right back."
"All up it takes hours to fix the issue when a pallet comes back," says Raa. "We simply couldn't go on with this occurring."
For NZ Drinks a temporary 'band-aid' solution could not be an answer – they needed something that would last. Universal Packaging came back with the perfect answer… a band aid.
Universal installed a roping unit on the automatic stretch wrapper. This banding attachment folds the edge of film forming a tough rope enabling the film to be applied at an increased tension. This makes strong reinforced wrap, eliminating load movement. After installing and running trials the new system came through with flying colours.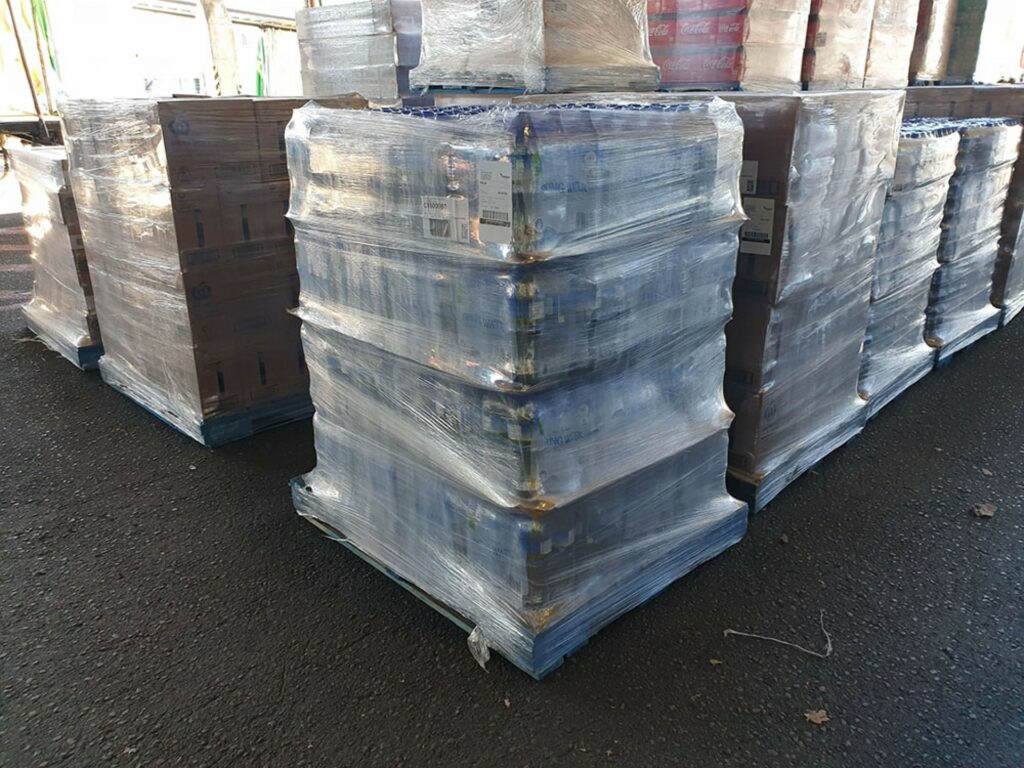 "We won't install something unless we can measure the results," says Universal Sales Manager Matt Goddin. "So the roping unit was tested not just as part of the NZ Drinks packaging operation but also at the end point of the pallet's journey."
The results have been perfect – the 50% return rate dropping to 0% with the operation of the new equipment.
"Full credit for the band project – it's added the tightness needed around the whole pallet without having to add a huge amount more wrap," says Raa. "Truthfully, we're over the moon with the result."
Preventing product damage, time wastage and unnecessary transport emissions has been a significant help for the company as it continues to make gains in overall sustainability processes.