Future-proofing New Zealand
Investment in distribution, industry & innovation ramps up
Two major new developments are on the horizon for industry in New Zealand. While at markedly different stages, each project promises major changes ahead, particularly when it comes to how goods are collected and transported around the country.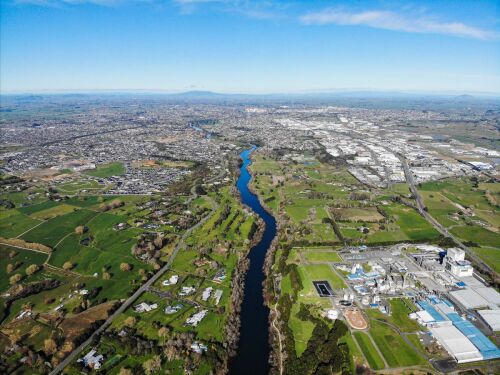 With one in the deep South and the other at the nexus of the 'golden triangle' between Tauranga and Auckland, the locations might be very different. But these two large-scale projects have much in common.
Size-wise, they are similar. Near Invercargill, the Awarua site comes in at a whopping 513ha. The Ruakura Superhub in the Waikato is a just-as-impressive 490ha in area.
Both are set to become major centres for industry, bringing income and economic activation to their respective areas.
Both developments are also promising to ensure the protection and ongoing health of the surrounding natural environment, with provision for green spaces and regeneration of wetlands and a future-gazing focus on sustainable industries and innovation.
The considerable number of resources involved in such major projects show just how much importance is being placed in sustainable distribution and production on a large scale. Clearly the mindset is "If you build it, they will come" (to drop off goods, and then leave, but soon return again with more goods).
Creating a masterplan for these large-scale developments will generally make them more sustainable, with provisions for the future needs of electric transport and the inclusion of housing and retail (which reduces the need for worker commutes).
1. Ruakura
As the popular saying goes, it's all about "location, location, location". At 104km from the Port of Tauranga, 10km from Hamilton Airport, 128 km from the Ports of Auckland, and alongside both the new Waikato Expressway and the East Coast Main Trunk line, Ruakura Superhub is exceptionally well-placed as a distribution centre.
The site will also include a 30ha inland port, which will be operated by the Port of Tauranga to increase supply chain efficiencies for importers and exporters. Two 800m rail sidings are included in Stage 1 of the inland port to allow for an expected 80+ cargo train movements every week.
The development includes capacity for 4,500 houses and several retail precincts to cater to residents and workers. There's also the Knowledge Zone – a commercial hub that aims to drive collaboration between businesses and research centres. This 108ha development is close to the University of Waikato, which plans to work together with tenants on innovation projects and research.
Tainui Group Holdings have entered agreements with two major distribution players so far. Big Chill Distribution is to build a 13,000m2 cold store facility in the industrial precinct at Ruakura, and Maersk has signed a long-term lease for 4.5 hectares in the logistics hub. Maersk is planning a 16,000m2 cold store facility, and aims to achieve a Greenstar 5 sustainability rating with the building.
Green spaces and environmental regeneration are well provided for in the masterplan for Stage 1 at Ruakura, with generous reserves and a promise to plant over 1.5 million native shrubs, grasses and trees.
2. Awarua
The rumour mill began to churn late last year when Invercargill City Council sold 513ha of a 600ha Awarua dairy farm 10kms from Invercargill. When the farm was bought by the council back in the mid 2000s the intention was to use the land to facilitate industrial development in the area. So it was no real surprise to find out that property and construction firm Calder Stewart was the purchaser.
Calder Stewart is currently developing a masterplan for the site. It's not yet known what will be included but, with a site of such magnitude, it's likely to be a mixed-use development that caters to all manner of industrial tenants and the needs of their staff, with potential housing and retail as well as industry and large-scale distribution on the cards.
The location is central to Bluff port, State Highway 1, Tiwai Point and Invercargill, and has a rail line running alongside it, making it an excellent location for distribution centres.
Suggestions have been made for future Awarua tenants to have direct access to clean energy from Manapouri, for existing wetlands to be regenerated and restored, and for potential tenants to include sustainable industries such as aquaculture and hydrogen production – although none of this is set in stone yet.
Once completed, this will be unlike anything previously seen in New Zealand in terms of scale – again proving the dedication to industry by these major players.
Two major new developments are on the horizon for industry in New Zealand.