On the safe side – retrofitting safety systems for pallet wrapping equipment
Sometimes it's not realistic to install an entirely new pallet wrapping set-up to meet a change in safety requirements. When this occurs, you've got two options. 1. Ignore the issue and continue as before, kicking the can down the road until a serious incident occurs, or 2. Engage an expert team who can scope, supply, manage, and install a new safety system for your existing set-up.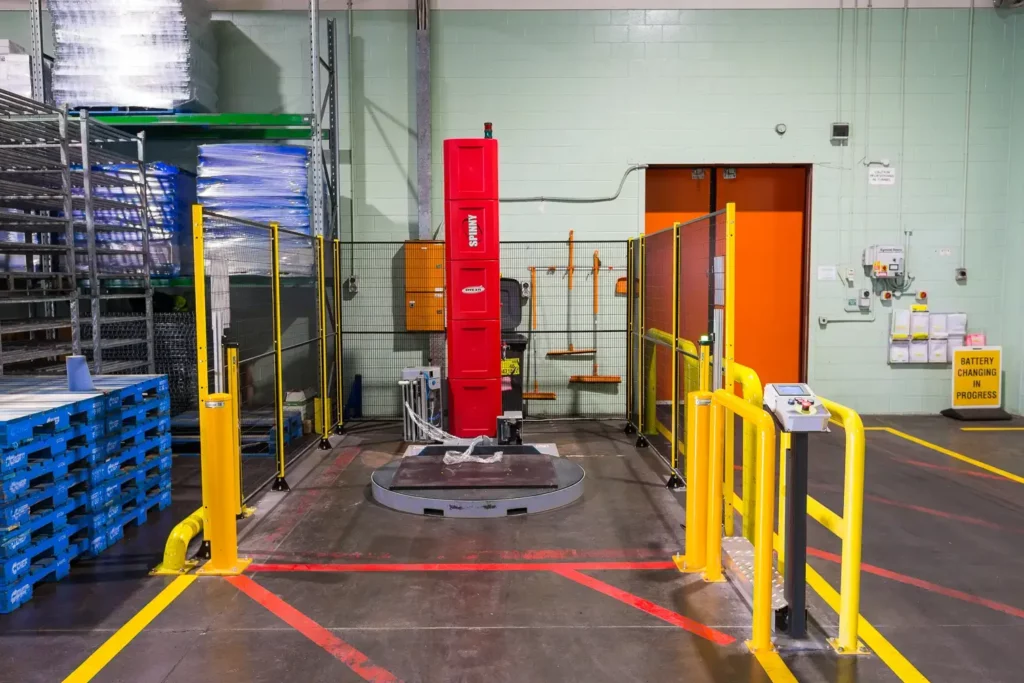 While the movement of equipment can seem like a relatively simple process, several factors need to be considered to deliver the right result.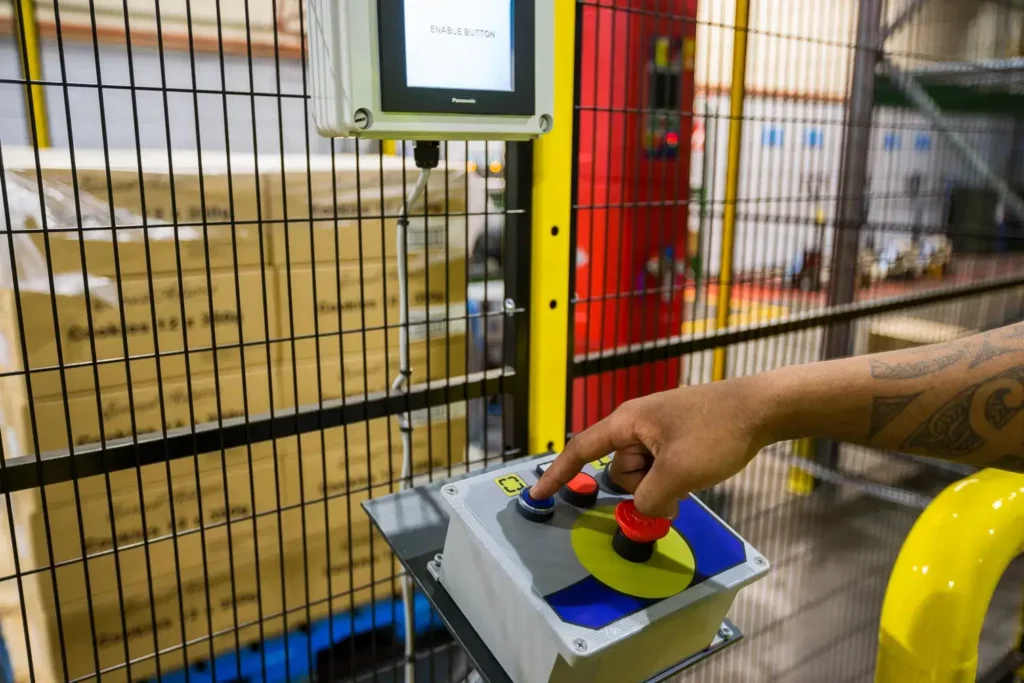 There can be many reasons for retrofitting safety systems to existing pallet wrappers. Often, it's due to a change in location of a pallet wrappers, be it through growth within the business to the need for better flow of movement within the DC.
Due to the dynamic nature of distribution centres, any change in the layout can have serious implications for the safety of workers. While the movement of equipment can seem like a relatively simple process, several factors need to be considered to deliver the right result.
For some companies the change is sparked by a new risk audit, due to either external recommendations or new in-house policy. Whatever the reason, it's important to carefully manage any installation of new safety systems around older equipment.
If the movement of equipment or the introduction of new systems causes workflow to slow down, staff are likely to find shortcuts. And, often, shortcuts mean accidents. To avoid this, ensure every change is well thought out and take a collaborative approach to these moves. Ask for feedback from those who use the equipment and work with experts who understand all the options and what's best for your needs.
The first step in finding out your safety system requirements is to obtain a full systems check by safety professionals. From bollards and forklift protection to aisle marking and DC layout, safety fencing and light curtains to lockout systems and pedestrian control, these checks and subsequent recommendations require specialist knowledge.
At Universal Packaging we are well versed on the multifaceted needs of such a move and the importance of using qualified safety engineers. We work with several trusted partners in this field and can make a recommendation to ensure the best expertise is delivered and the right standards are met.
Once these specialists have documented the requirements, our technicians will make a site visit to quantify the materials and input needed to meet the recommendations. We can then provide a quote on the equipment and installation costs.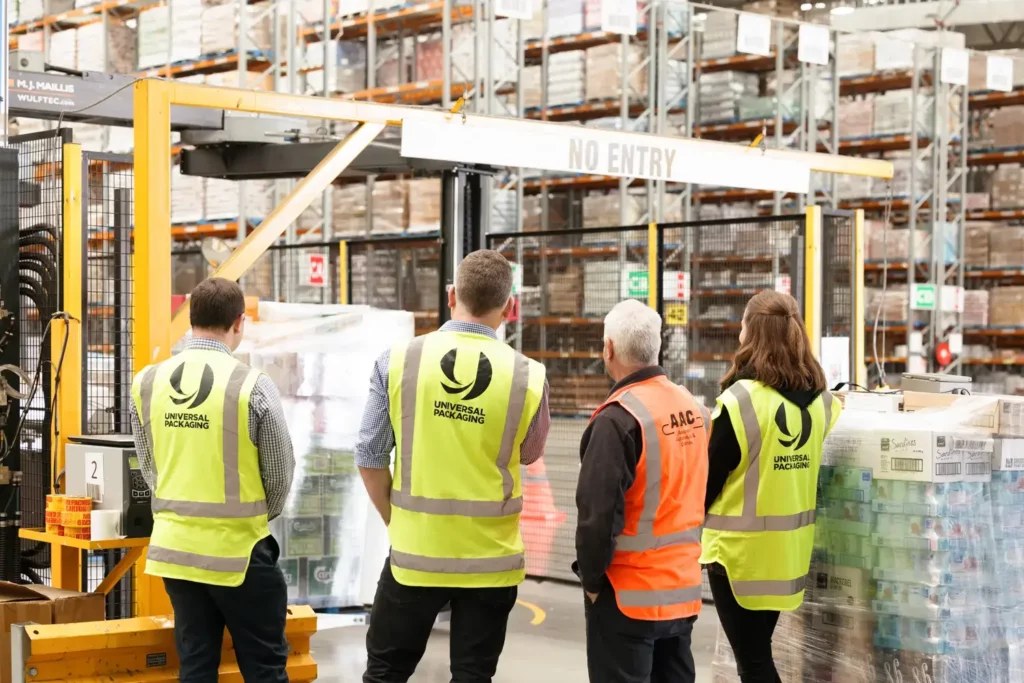 Sometimes, such as with standalone systems that include a risk audit and are located away from any other machinery and infrastructure, the safety needs will be minimal. Such a machine might just require safety fencing with a light curtain, for example. Other times a more comprehensive system will need installing.
Here are a few simple considerations before you embark on any big changes:
1. The more things change, the more they should stay the same
Sometimes a safety system can have the opposite of its intended effect. Extra steps in the work process impeding productivity, which can result in staff becoming frustrated and finding novel solutions to speed things up. Having a big picture view of the system will prevent this from occurring. All parties must be consulted and educated on any new developments.
2. It's about far more than fencing
We will always follow the recommendations of safety experts – advice that can be far reaching. Sometimes, these recommendations call for air dump valves, lockout systems, pedestrian access gates and the relocation of controls to increase safety and provide greater awareness of surroundings for workers. We'll undertake whatever is necessary to ensure efficiency and safety.
3. Separate human and machine
Keeping humans away from forklifts is a key consideration for H&S protocols in a busy distribution centre. Fully automated pallet wrapping equipment allows operators to stay on their MHE throughout the process, placing them away from further moving parts and limited distractions and unnecessary movements.
4. Sometimes new is best
While retrofitting can save you money in many situations (especially if the machines are still in good shape), there are occasions when this is a false economy. Sometimes, upgrading to a newer system with compliant safety equipment included will be a better option for your safety and your budget.
For those looking to make a change, remember it's important to think through the whole process before pressing the green button. Before any steps are made, get in touch with us and, together, we can work through what you are trying to achieve.