Bunnings farewells DIY pallet strapping
While Bunnings customers might visit to get their DIY fix, it's not a desirable approach for their distribution centre.

The Bunnings distribution centre team had been strapping pallets manually using polypropylene strap with buckles. Anyone who has noodled around with those sharp edges and tricky tensioners will know that the frustration is real. As well as irritating the user, this outdated style of strapping also hampers overall DC efficiency.
Manni Sekhon, Outbound Coordinator at Bunnings, had a number of similar complaints about the out-of-date system. "The buckles were too time consuming and the old strap machines kept jamming. They were costly to repair and time consuming to get fixed."
Given that "pick accuracy and getting stock to stores in a timely manner" are the most important elements of Sekhon's job, we were able to suggest some easy improvements to their strapping systems to make his life easier.
Bunnings moved to Premium PET strapping, which is tougher than polypropylene while maintaining integrity. This pallet strapping retains tension for ideal load stability, ensuring products make it onto shelves with less risk of damage. It's tough (even those wayward nails won't stop it) and there are no unsightly buckles making it tidier, easier and safer to work with.
PET strapping can be used by hand or with automated machinery. Bunnings went with the Orgapack strapping tool to complete the job.
Orgapack is growing in popularity around New Zealand due to the ease of use, built-tough design and its ability to consistently apply tension to straps. Ergonomically designed, these handheld tools are optimised for user comfort. It's easy to access strap alignment measurements, favourite strapping mode, real time indication of applied tension force and variable tension speed control. Everything's within reach and ready to go at the touch of a finger.
The combo has resolved the main issue that was plaguing Sekhon's team – "time wastage", and he says it's "definitely a big improvement from the previous strap machine."
Overall, the change has made work easier for Sekhon and the Bunnings crew. "Our team is able to get more tasks completed instead of having to spend unnecessary time strapping pallets."
By switching over to the Orgapack and PET strapping they've also cut labour costs and, as Orgapack reduces strap waste, saved on consumables too.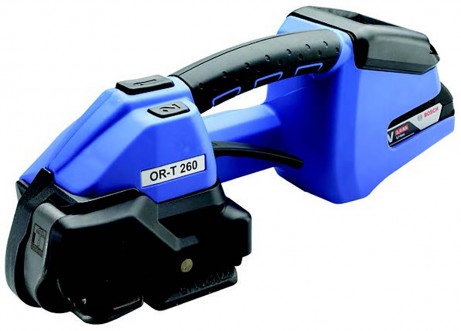 "Our team is able to get more tasks completed instead of having to spend unnecessary time strapping pallets."