Testing the laws of physics with Newton
Three of the Universal Packaging team visited Malaysia in May to see up close our innovative pallet wrap put to the test by the laws of motion.
In Kedah, Malaysia, the Newton Research Institute was set up to provide rigorous analysis and optimisation to meet the changing requirements of the transport industry. 
It is the biggest dynamic test facility of its kind in the Asia-Pacific region, providing neutral, evidence-based advice for a huge range of packaging and transportation challenges.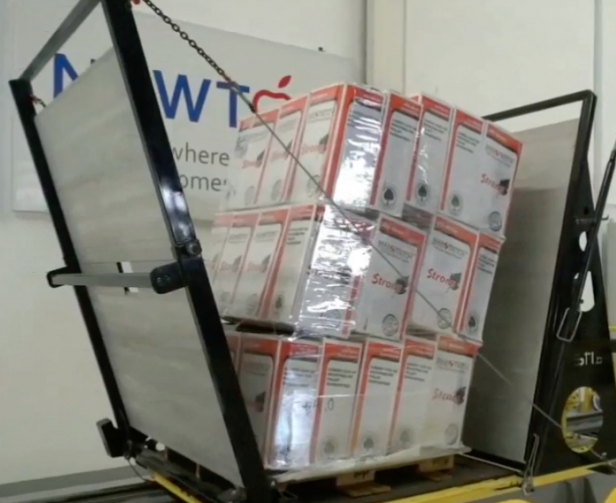 This was the third time the team has travelled to the facility. With each visit we've gained valuable information on how we can continue to innovate our products, increasing load safety, reducing waste and, in doing so, increasing savings and efficiency.
Jed Goudie, Garth Hill and Matt Goddin worked with application specialists in the static and dynamic labs over three days.
Nights undertaking culinary tours and days of 34° heat didn't distract the team from important work training in load containment and testing new products like NanoWrap against 'traditional' wrap. The trip was "yet another eye-opener" according to Matt.
"Learning more about the regulations around load containment in Europe, USA and Australia and growing our knowledge around application techniques and testing has been invaluable," says Matt.
"We took each film to its 'optimised stretch point' using a variety or methods, including the acceleration bench test – which replicates many of the real-world stresses on the pallet. It was all carefully measured so we had the best data in wrap properties and fitting."
The name of the institute is fitting too. One of the famous scientists most well known laws is "for every action there's an equal and opposite reaction". It's true in physics, and often true for the actions taken in choosing the right pallet wrapping.
"Companies stuck using traditional blown wrap will find their productivity (and profitability) continues to be impacted by wrap breakage, product damage and safety issues," says Matt.
"Over the last decade pallet wrap has changed significantly globally, and blown wrap has been on the whole replaced with the more efficient and cost-effective cast-stretch films," he says.
"We're proud to lead the vanguard here with our own world-leading films like our 33 nano-layer NanoWrap – and now we have the data and expertise to help New Zealand companies take the next step."
It is the biggest dynamic test facility of its kind in the Asia-Pacific region.