Tool up. Measure right. Pack tight.
How high-tech pallet analysis highlights greater efficiency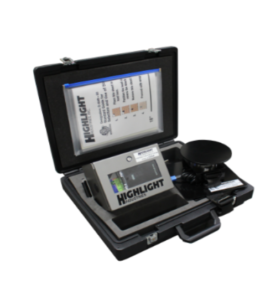 When a high-use item can be utilised in different ways to affect overall efficiency there's often 'miles in the millimetres' – small tweaks that can add up to big gains. Sometimes however the business-as-usual mindset means such improvements are undiscovered. So, how do you quickly show the millimetres in the first place?
At Universal Packaging we employ a wide variety of measures to test distribution centre efficiency. We won't recommend a course of action unless we can first measure what's in use and then show how a change in approach delivers a better result.
While there's obviously specialist expertise and experience that goes into making our recommendations there is also a substantial amount of technological support too.
That's why in 2015 we partnered with a USA firm – Highlight Industries. Working out of Grand Rapids, Ohio, this company produces the most advanced pallet film testing equipment in the world. They're widely regarded as the leader in quality control equipment both for companies like ours and for stretch film and resin producers.
Universal Packaging's Jed Goudie and Matt Goddin visited the Highlight Industries head office for equipment training and have since met the Highlight team many times to keep up to date with new field testing innovation.
Since 2015 we have used Highlight's Portable Film Force System to collect, record, and graph data in the field, in real time. This is the most accurate way of measuring both containment force and puncture resistance in pallet packaging.
With this equipment we can go anywhere and measure any type of pallet. We can compare multiple tests in a matter of seconds – then we can share these results with absolute clarity.
The use of this equipment is vital to our work for a number of reasons. That's because it's not just cost savings that are affected. Sustainability measures can be shown quickly also, as was the case with our work at Foodstuffs. Here data analysis allowed the company to confidently modify the film carriages on equipment to use NanoWrap at a higher pre-stretch setting.
This type of accurate analysis and reporting ensures our clients can share the good news with certainty. At Foodstuffs the changes resulted in an annual reduction calculated to be in excess of 150 tonnes of wrap across their distribution network.
Empowering our clients to make changes is about far more than making a recommendation and hoping for the best. By understanding the wrapping operation with greater clarity we can quickly set benchmarks, make changes and compare results. This means increased wrap performance and reduced cost and wastage. What could be better?
If you'd like to book an on-site packaging audit simply contact us here.
Highlight's Portable Film Force System is the most accurate way of measuring both containment force and puncture resistance in pallet packaging.