Foodstuffs launches ahead at Landing Drive
It's true that 'bigger' doesn't always mean 'better' in the logistics field. Without the right combination of process, people, and technological power, big can be unwieldy, complicated and lumbering. However an incredible new flagship distribution centre on Landing Drive has got the combination exactly right.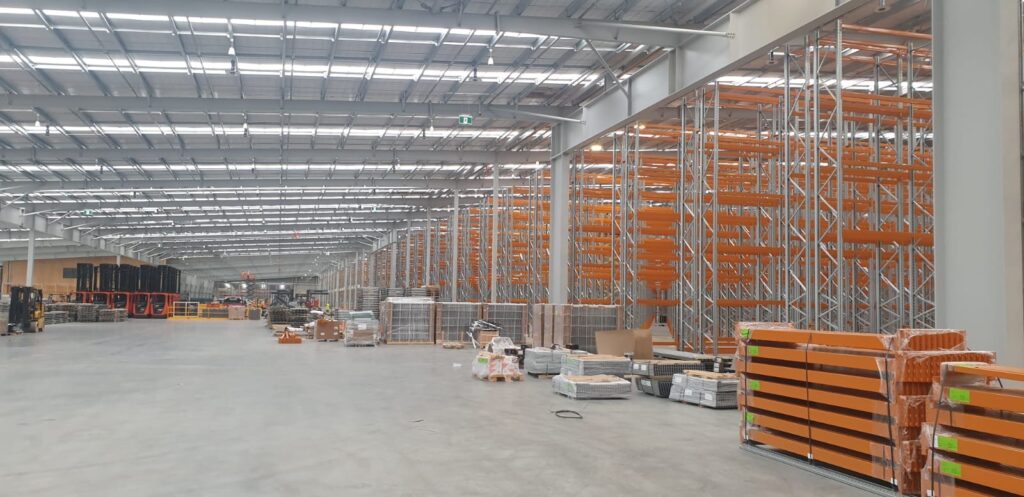 There are many aspects of the new Foodstuffs development at Auckland Airport that are noteworthy.
For one, there's the size. The 74,886 square metre footprint would fit within it the four major rugby grounds of Auckland, Wellington, Christchurch and Dunedin, with room still to kick for touch. It's safe to say this is one of New Zealand's largest office and distribution centres.
With that size comes some substantial energy needs. Forward-thinking from the FMCG giant has got this covered too. 2915 solar panels, 14 netball courts' worth line the roof – New Zealand's largest PV array. These will generate enough electricity to power 213 average Kiwi homes – which will make it about right for the busy DC and office space.
The office will house approximately 1,000 employees and the entire centre will service over 100 supermarkets. That much throughput requires absolute peace of mind in the speed, efficiency and safety of shipping, with pallet packaging a huge focus here.
Developments of this nature require careful planning over a long period of time. The Landing Drive build started in 2018, with planning for pallet equipment beginning mid-2019 to ensure everything could be ready and wrapping by March 2021.
Jed Goudie was the key technical consultant from Universal Packaging for the Landing Drive project. He worked closely with the Foodstuffs team, in particular engineering manager Peter Van Der Steen and engineering coordinator John Carlyle. Together they carefully scoped, specified and spearheaded the installation.
"We've worked with Foodstuffs the length of the country, with WRTA wrappers installed in Auckland, Palmerston North, Wellington, Christchurch and Dunedin," says Jed. "In that time we (Universal Packaging) have been lucky to have the in-house skills of the Foodstuffs' team close by."
"Over the last few years we've also worked on specialist endeavours at key sites, from retrofitting safety systems to existing pallet wrappers in Rotorua to working in cold storage and temperature controlled DCs in Palmy and at Hornby in Christchurch."
It could be said all of this work was simply training for when it came time for the 'big game' at Landing Drive. Here, diligent scoping carefully set the scene. Key considerations included the number of pallets that were processed each shift, the number of available pickers and the location of pallet wrappers to ensure optimum flow.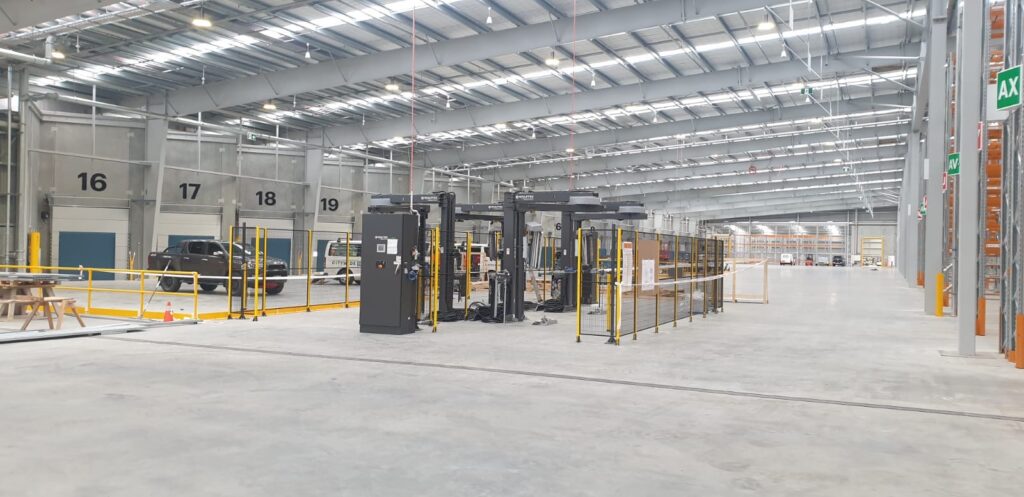 The project team settled on a total of 14 Wulftec WRTA rotary arm wrappers for the Landing Drive site – twelve wrappers for dispatch and two for wrapping inbound goods for the high density racking area.
The WRTA wrappers are built to last forever and renowned for their flawless performance. The powered pre-stretch carriage ensures optimal film delivery with peak efficiency, the programmable wrapping cycles deliver ongoing functionality. Fully automated, each pallet wrapper provides superior speed in pallet packaging with optimal cost-effectiveness – all goods easily flowing from pick to dispatch in the busy Foodstuffs DC.
The rotary arm wrappers are set up in a dual layout with full safety systems around each. These arrangements feature a combination of safety fencing, light curtains and other intuitive processes and technological systems to ensure all staff are protected at all times.
To ensure ease of use and overall efficiency a few additional enhancements were made, including the move to a deluxe control panel with Allen Bradley Panelview 600 Plus touch screen and the introduction of an automated Lincoln lube system to ensure reliable lubrication for the ring gear bearings, which in turn keeps maintenance time to a minimum. The units have also been upgraded from standard 12 RPM to 17 RPM, with a 2030mm wrap height.
Eight WRTA wrappers were delivered on-site in two 40' containers in mid October before being devanned and installed by Universal technicians over a couple of weeks. In late November two more arrived to be devanned and installed also.
It required a team effort from Universal. Dave White and Alan Trask worked tirelessly behind the scenes to ensure the logistics and freight elements of the project went smoothly. Olivia Bull and Stacey Edwards project-managed the devanning, installation and commissioning of the wrappers. They'll also be working with the team at the new DC once everything is up and running, ensuring all operators know exactly what goes where (and how, and why).
The work doesn't stop there. In early 2021 Universal Packaging will be decommissioning, refurbishing and relocating the four existing WRTA units from the previous Roma Road DC to the new location. With the fourteen wrappers working in unison Foodstuffs will be able to advance their distribution effectiveness with confidence. The final result will be, in the words of Jed Goudie, a game changer' for Foodstuffs.
"It's giving them this huge capacity and capability – and making sure they can get their goods safe and secure to where they are needed," says Jed."
"The 74,886 square metre footprint would fit within it the four major rugby grounds of Auckland, Wellington, Christchurch and Dunedin, with room still to kick for touch…"